K-Block is a cloud hosted add blocker service that allows you to block all of the annoying advertisements showing on your laptop, mobile or tabs. Also this services enables you to block more than 50 lakhs of website which are suspicious or even defined as dangerous already.
K-Block is a general purpose network-wide ad-blocker that protects your network from ads and trackers without requiring any setup on individual devices. It is able to block ads on any network device (e.g. smart appliances), and unlike browser add-ons,it blocks ads on any type of software.
You can call it a cloud DNS Platter filled with delicious services.
Blocking ads and trackers on your devices typically requires manual labour on each individual device. Installing an ad-blocker on your browser, another on your phone, and another on your tablet. Who knows these add ons are collecting your personal data !!!
Block more than 50 lakh suspicious domains
Control Over 100,000 Ad-serving Domains
Improve Overall Network Performance
Reduce Broadband Internet Usage
Monitor Performance And Statistics
Block Advertisements On Any Device
Easy Deploy into your network
K-Block Features
Manage White And Black Lists
Query Log
Long Term Statistics
Audit Log
Privacy Modes
Block Ad-serving Domains
Improve Overall Network Performance
Monitor Performance And Statistics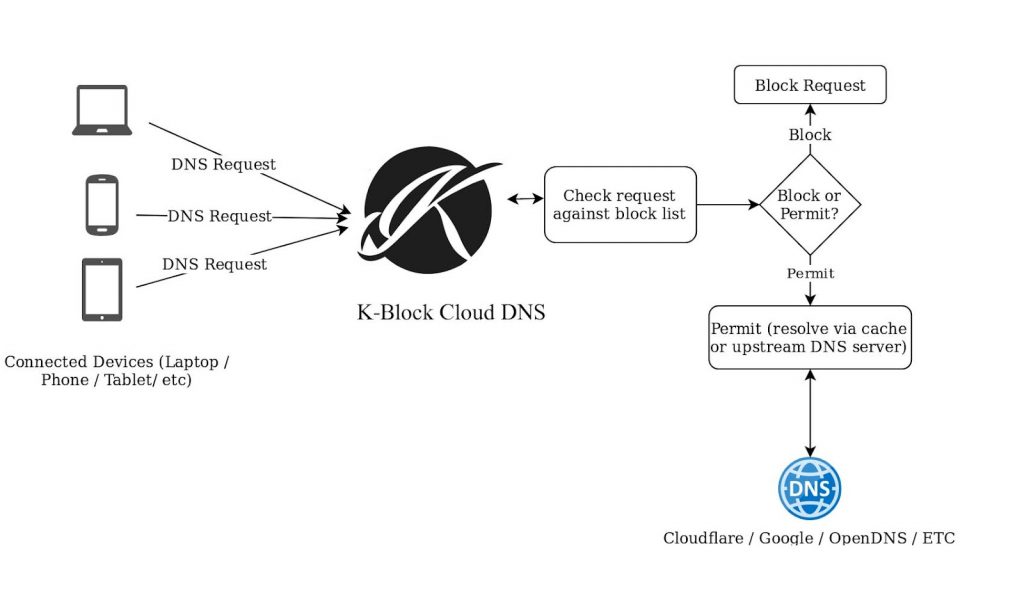 K-Block use a modified dnsmasq to block DNS queries for known tracking and advertising lists. This Solution as a DNS server for your network.
It blocks domains at network level, It can block advertisements such as banner advertisements on a webpage, but it can also block advertisements in unconventional locations, such as on Android, iOS and smart TVs.
It blocks website domains by manually adding the domain name to a blacklist. Likewise, domains can be manually added to a whitelist should a website's function be impaired by domains being blocked.
What to know more about this? Read about DNS_Filtering and DNS Sinkhole